Portadown Golf Club was first established on 1900, becoming affiliated to the Golfing Union of Ireland in 1905. The first records of the Ladies Branch date to 1910, when they played their competitions on a Wednesday and Saturday.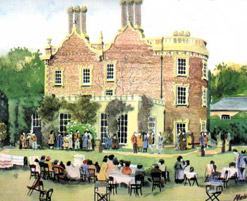 The Club was originally located on land now occupied by Craigavon Area Hospital and via Drumcree in 1907, Seagoe in 1914, The Mahon (where the Olde Golf Links housing development in on the Tandragee Road) in 1921 and finally settled on land in Carrickblacker in 1934.
Portadown was originally designed as an 18 Hole Course, but during the War, the Club survived by cutting back to 9 holes 'the old 9', giving the rest of the land up to grow flax and potatoes and to graze sheep.
During the War period, prisoners of war assisted on the course. The back 3rd tee being a result of their labours.
In 1970 land for a second 9 holes was acquired, and the 'new 9' was opened in 1974 by the then Captain, Mr Billy McCann.
The present Clubhouse was officially opened by Fred Daly (1947 British Open Champion and MBE) in February 1988 and although the internal layout has been slightly changed since then, it still remains a welcoming and friendly Club for all its Members and visitors, providing a well-deserved sanctuary with views over the course, to relax and enjoy the fine wines and good food from The Riverside Restaurant.